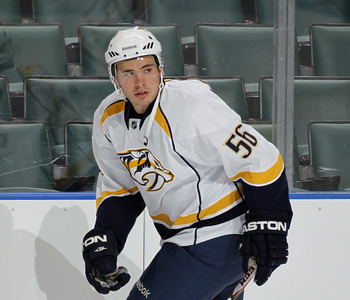 Taylor Beck, LW/RW

Shoots: R

Height: 6-2

Weight:207

Born: 1991-05-13

Hometown: Niagara Falls, Ontario

Drafted: 2009 by Nashville, 70th overall
Observations:
October 2014 - Beck was resigned as a RFA to a one year contract after being in limbo all summer. Beck was already in tough to make the Predators roster but missing most of the preseason likely wipes out any chance he had of starting the season in the NHL. If he starts the AHL season strong he could be an early injury call-up. Donesh Mazloum
September 2014 - Beck started the 2013/2014 season back in the AHL with the Milwaukee Admirals and picked up where he left off as one of the Admirals top offensive options. Beck picked up 49 points in 65 games over the course of the year and also suited up with the Predators for 7 games where he went pointless. Beck may be in tough to make the Predators permanently (yet again) as GM David Poile (yet again) brought in numerous free agent forwards in the offseason. Despite his ability to put up points in the minors it appears that the Predators don't have full confidence in his ability to replicate his numbers in the NHL. Beck is five years removed from his draft and is starting to be passed on the depth chart by younger, higher profile names. This is a very important year for him as his road to the NHL is starting to look murkier. Donesh Mazloum
September 2013 - After a stellar audition with the big club in 2012/2013, which saw him pot three goals and seven points in 16 games, Beck looked to have an inside track on a roster spot this upcoming season. However after the free agent signings of four NHL forwards in the offseason Nashville now has 12 forwards on one-way contracts. Consequently Beck may again be in tough for a roster spot. If Beck can find a way to gain regular ice time he may be a fantasy option in deeper leagues, however until his path to the NHL is made clearer he is a risky option. Donesh Mazloum
March 2013 - The Preds are giving the potential power forward some time to find his game. He needs to be more aggressive and use his size. The goals are starting to come, which is another thing that needed work. All-in-all, he's on the right track. - Dobber
May, 2012 – Beck has improved his production year by year, finishing as the seventh overall scorer in the OHL in the 2010-11 season. Taylor showed very well in his first NHL and could compete for a roster spot next season. His skating could use some work but he has NHL size and plays a strong physical game. - Ryan Goddard
Fantasy Outlook: C+
Beck has proven to be a competent goal-scorer at each level he has competed. Beck doesn't possess high-end upside but will score goals on the second or third line.
Footage:
Player of the Week highlights:
Buy the latest Fantasy Prospects Report here.