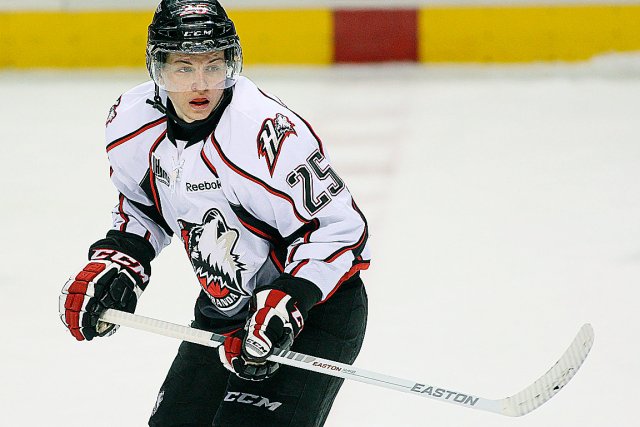 Sven Andrighetto, RW

Shoots: L

Height: 5-9

Weight: 188

Born: 1993-03-21

Hometown: Zurich, Switzerland

Drafted: 2013 by Montreal Canadiens, 86th Overall
Observations:
December 2014 - Andrighetto has picked up where he left off in his rookie year and sits third among scorers on the Hamilton Bulldogs. His play earned him a call-up to the main roster. He has had an immediate impact as a winger on Tomas Plekanec's line and has a goal and an assist through two games. He has been involved in many scoring chances and goes to the net often. This opportunity came as a result of some line shuffling so he may not be there for long. Still, he is showing some great signs. Eric Daoust
June 2014 - Andrighetto was the brightest surprise on the Hamilton Bulldogs this year as he led all of the team's prospects with 44 points despite being a rookie. His 5'9 frame will always be a concern but if he can continue progressing at the offensive end he might have what it takes to have a strong future in the NHL. Eric Daoust
February 2014 - Andrighetto was recently involved in a trade rumor that would have involved a swap of Rene Bourque and P-A Parenteau. The Canadiens elected to keep Andrighetto and talks fell apart. This speaks to how the Canadiens feel about the AHL rookie. Eric Daoust
November 2013 - Andrighetto is off to a great start to his AHL career with six goals and 10 points in 13 games. Despite the hot start, the Canadiens turned to more experienced players such as Louis Leblanc, Gabriel Dumont, Michael Blunden and Martin St. Pierre for injury call-ups. Andrighetto will remain in the minors for the time being but is showing positive signs so far. Eric Daoust
July 2013 - Andrighetto has signed a three-year entry-level contract with the Canadiens. The Hamilton Bulldogs had a terrible roster last year so do not be surprised if Andrighetto is in the AHL for the 2013-14 season with plenty of opportunity to produce. Eric Daoust
July 2013 – Sven Andrighetto was finally selected by the Montreal Canadiens in the third round of the 2013 entry draft after being passed over the previous two years. He is a very talented offensive player both as a shooter and passer who also displays good defensive awareness. His lack of size will always be an issue but his passion and talent could be enough to push for a spot in the NHL. At 20 years of age the development time is less than most other 2013 selections. Eric Daoust
Good offensive upside but risky due to his short stature and late draft age.
Footage:
Sven Andrighetto draft profile.
Buy the latest Fantasy Prospects Report here.