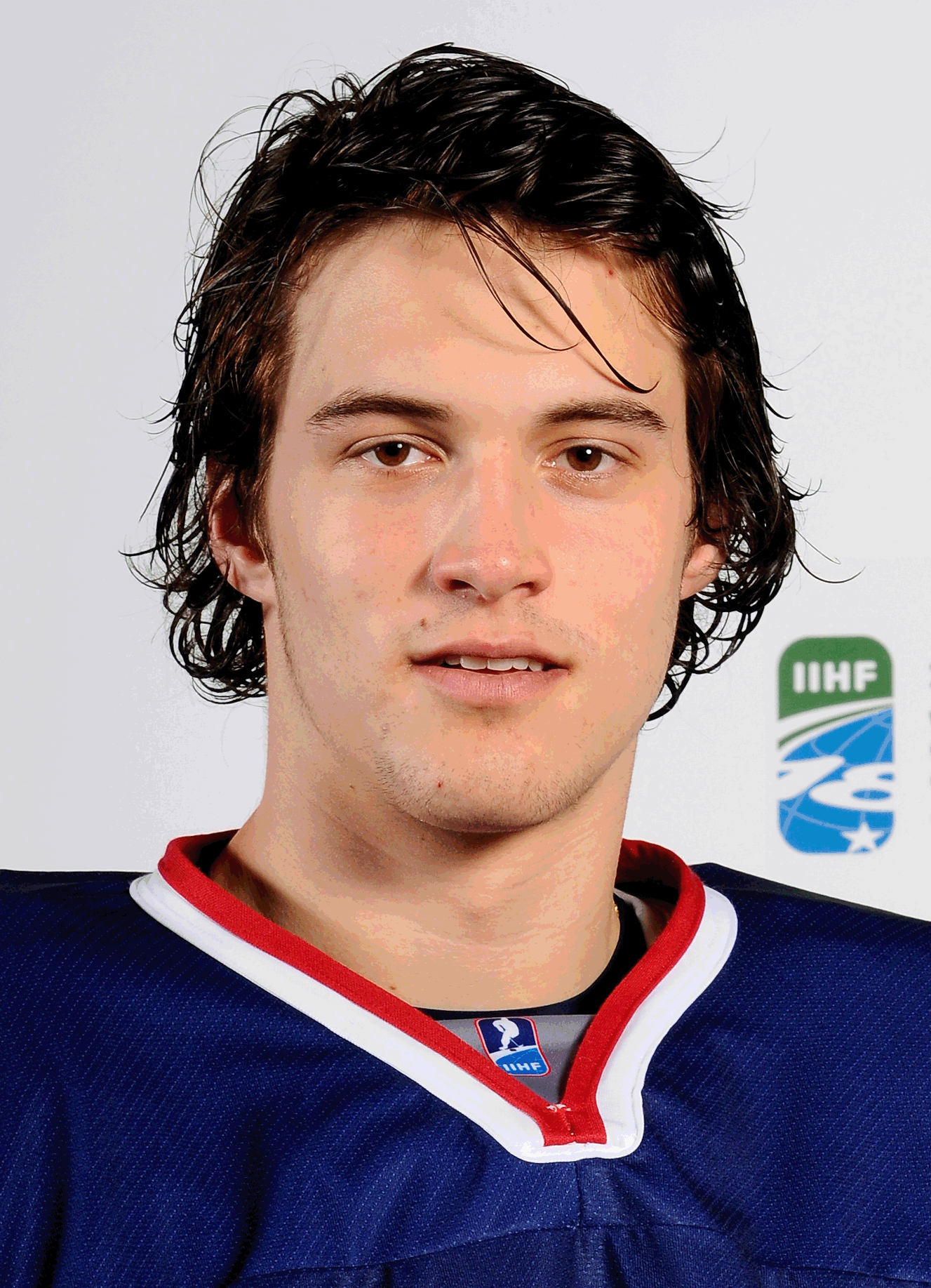 John Gibson, G

Catches: L

Height: 6-3

Weight: 220

Born: 1993-07-14

Hometown: Pittsburgh, PA, USA

Drafted: 2011 by Anaheim Ducks, 39th overall
Observations:
December 2013 - John Gibson has been called up to the Ducks. Frederik Andersen has been sent to Norfolk as a result. Gibson has posted strong numbers in the AHL, and this won't be seen more as him serving as backup. The Ducks wanted to give Andersen more playing time since Hiller has been playing outstanding for the Ducks. If Gibson can get in a start, it'll be interesting to see how he plays. -Kevin Won
November, 2013 - John Gibson has not shown any weakness in his transition to the pro leagues with five wins, one loss, and two overtime losses in nine games, boasting a 1.61 GAA and a .951 SV%. He was also named AHL Goalie of the Month for October. With Frederik Andersen playing strong in the NHL due to Fasth's injury, the path is clear for Gibson to take a strong command of the cage in the AHL with the Admirals. -Kevin Won
July, 2013 - John Gibson, who recently led Team USA to a bronze medal at the IIHF World Championships, has been invited to the Team USA Olympic Orientation camp that will be held next month. He is not slated to get a spot, but will attend to gain valuable experience. He has yet to play an NHL game. -Kevin Won
May 2013 - John Gibson had the pleasure of showcasing himself at the IIHF World Championships, posting three wins, one loss, and a shutout along with a a 1.56 GAA and a 0.951 SV%. After Gibson's second round robin game, coach Joe Sacco elected to ride him in the quarterfinals, semifinals, and the bronze medal game. Gibson's strong play led USA to its first medal in the Worlds since 2004 when they got a bronze. The young netminder has a bright future ahead of him and once again proved himself on the international stage. -Kevin Won
May, 2013 - After being injured for nearly two months, John Gibson returned on March 8th, playing four more regular season games to close off the year. He posted 17 wins, nine losses, and one tie in 27 games with a 2.41 GAA and a 0.928 SV%. In the playoffs, Kitchener managed to knock off Guelph but fell to the London Knights in five games in the second round. Gibson continued to post strong numbers, earning five wins, four losses, and a tie with a 2.17 GAA and a 0.946 SV%. Shortly after the conclusion of the Rangers' season, Gibson was assigned to Norfolk where he played one game, filling in for Frederik Andersen who got pulled earlier in the game. Gibson is also currently participating in the IIHF World Championships where he stopped 31 of 32 in his first start, a 4-1 win against Finland. The tall, athletic netminder will continue to gain experience and will challenge for the #1 job with the Norfolk Admirals. There is a wealth of goaltending depth in Anaheim, so Gibson will have to wait his turn or force his way up the ranks. -Kevin Won
February 2013 – After his 'awe- inspiring' WJC performance for the USA, Anaheim choose to bring him into their post-lockout camp. He was returned to Kitchener to finish the season with a wealth of experience and confidence but unfortunately he did not last long. Gibson has been on the shelf since January 19 with soft tissue damage in his groin area. His durability is starting to become very questionable as last season was a mess with hip problems and a couple of illnesses, and this season the hip has continued to be an issue at times and now groin issues. The biggest flags to come from the fact most of the issues are mobility related yet he is not an overly mobile goalie himself, he tends to live and die by strong positioning, excellent size and strong use of the extremities. Jason Banks
January 2013 – John Gibson is an up-and-coming elite goaltending prospect and after single-handedly winning the gold medal for Team USA at the 2013 World Junior Championship roster it is clear that his trajectory is heading high. Gibson is a technically sound netminder with an aura of confidence about him that yells, "future NHL stud". Gibson walked away from the 2013 WJC with loads of accolades including a member of the U20 WJC All-Star Team, U20 WJC Best GAA (1.36), U20 WJC Best SV% (.955), U20 WJC Most Valuable Player, and of course, a U20 WJC gold medal.  Brendan Ross
Elite starting goaltender who should challenge for an NHL gig as soon as the 2014-14 season. If Gibson is available in your keeper leagues, it would be wise to snatch him up quickly.
Footage:
John Gibson Compilation:
Fantasy Prospects Report Notes (Any FPR's released in the last 18 months will not be listed here):
2011 Fantasy Prospects Report
John Gibson, G
2010-11 Team: USNTDP U18
A 6'3 American goaltender who finishes with a perfect record and stellar individual stats at the U18s? While American product John Gibson may not be Jack Campbell, there's every indication that Gibson could one day be as good or better a pro player. Sublime in his performance at the U18s, where he posted a 2.34 GAA and 0.926 SP - not to mention never losing a game - Gibson showed that the future of American goaltending is alive and well. A technically sound keeper with a sharp understanding of angles and body position, Gibson's athleticism is also scary- good - but you'll rarely get to see it on display. Thanks to his poise and positioning, Gibson rarely must strain himself to make a show-stopping save. Headed to Michigan next season, Gibson will have to fight for playing time with now-junior starter Shawn Hunwick, but he has all the tools to win the job for good early on.
Upside: Starting goaltender
Projected Round: Late 1st. See mock draft.
Buy the latest Fantasy Prospects Report here.
John Gibson statistics courtesy of Elite Prospects
Write comment
Comments
(0)
Subscribe to this comment's feed