Tampa Bay Lightning
Written by Jason Banks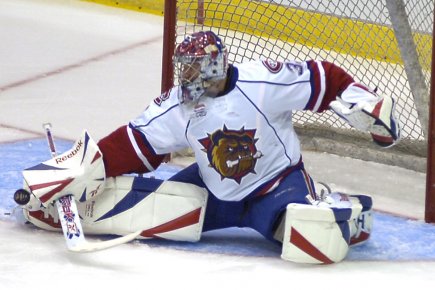 Cedrick Desjardins, G

Catches: L

Height: 6-0

Weight: 192

Born: 1985-09-30

Hometown: Edmundston, N.B.

Drafted: Free Agent Signed
Observations:
March 2013 – With a couple injuries in the past month Desjardins has received a pair of recalls. In his latest recall Tampa has tried him out, but his performances have been nothing special. In the AHL he has posted three shutouts and five wins in eight games since joining the Lightning organization. His future is in the Tampa Bay organization is rather murky, he and Garon are both un-restricted free agents at season's end, Riku Helenius, Andrei Vasilevski, Adam Wilcox and Jaroslav Janus could make noise if the team wishes to fill the backup role with a true prospect. He will likely get a few more opportunities as Lindback may be out a couple more weeks, these starts could make or break Desjardins' career.Jason Banks
February 2013 - The Canadiens traded Desjardins to Tampa Bay for fellow goalie prospect Dustin Tokarski. Desjardins will be a depth player with the Lightning, much as he was in Montreal. However, if given the opportunity, he could surprise but time is running out on his prospect status. Rich Dillon
December 2012 – Desjardins returned from injury in mid-November, and has continued his stellar ways. He has a three and one record, with a shutout in his latest game vs. Abbotsford. I was rather surprised that in his return to game action, he made several highlight reel saves early displaying his flexibility. Jason Banks
November 2012 – Was re-signed by Montreal in the off season coming back to the organization who gave him his first shot six years ago. Very quick, acrobatic, competitive and molds his game after Patrick Roy. His athletic ability makes up for his size, but it also causes him to be injured quite often with nagging muscle problems in the groin, legs and hip. Desjardins suffers from a good form of inconsistency, he will either steal games while being flashy or he will be rather quiet and just stable. He is known for getting on streaks of being unbeatable. He has been one of the best goalies in the AHL for several seasons, but has struggled to find opportunities or be healthy when opportunities arise. Currently he is assigned to Hamilton of the AHL, but has not played due to a leg injury (knee it is believed). If the NHL resumes this season, he will back up Carey Price as Montreal's other options of Robert Mayer and Peter Delmas are extremely poor.
Fantasy Outlook: C+
He will be good in the games he plays, but 'Band-Aid' tendencies make him a very unreliable fantasy option at this point in his career.
Footage:
Fantasy Prospects Report Notes (Any FPR's released in the last 18 months will not be listed here):
Buy the latest Fantasy Prospects Report here.
Cedrick Desjardins statistics courtesy of Elite Prospects
Write comment
Comments
(0)
Subscribe to this comment's feed
Last Updated on Tuesday, 26 March 2013 13:16