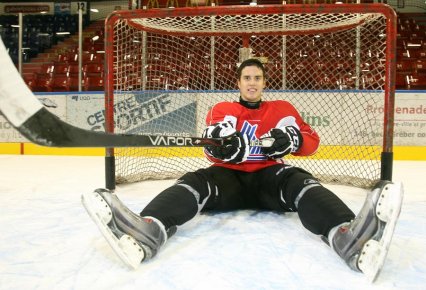 Tomas Hyka, RW

Shoots: L

Height: 5-11

Weight: 165

Born: 1993-03-23

Hometown: Mlada Boleslav, Czech Republic

Drafted: 2012 by Los Angeles, 171st overall
Observations:
September 2013 - After skating two season with the Gatineau Olympiques of the QMJHL, Tomas Hyka  is headed to Farjestad to compete in the Elitserien League. Hyka regressed slightly in his second QMJHL season posting 20 goals and 54 points in 49 games, which was 10 less points than his rookie campaign. Look for Hyka to spend a few seasons honing his skills competing against men in the SHL. Brendan Ross
February 2013 - Hyka has failed to take the next step in his development. Even though he has 19 goals and 51 points in 45 games, he needs to be more productive to overcome his small frame if he hopes to get on the NHL radar. Eric Daoust
November, 2012 – As with most undersized forwards, Tomas Hyka will have a tough road to the NHL but the talent is there and he is plenty fast as a skater. In his first season in the QMJHL, he led Gatineau with 64 points in 50 games, earning himself a sixth-round selection by Los Angeles as an overage player.  The 2012-13 season has not been as successful thus far as he has only netted 13 points in 15 games. He will need to continue overachieving moving forward to overcome his lack of size to latch on to an NHL roster. Eric Daoust
Fantasy Outlook: C-
Hyka is a long-shot and several years away from contributing, but his speed and offensive instincts may be worth a gamble in deeper leagues.
Footage:
Hyka highlight reel:
Buy the latest Fantasy Prospects Report here.