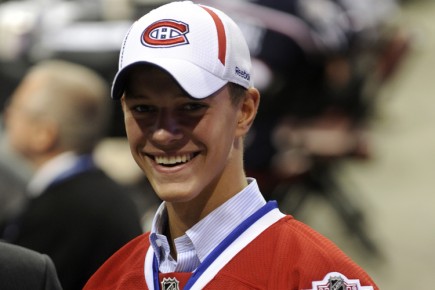 Alexander Avtsin, RW

Shoots: R

Height: 6-3

Weight:200

Born: 1991-03-19

Hometown: Moscow, Russia

Drafted: 2009 by Montreal, 109th overall
Observations:
May 2012 – Avtsin finished the 2012-13 campaign with five points in 15 games which included a ton of healthy scratches. He has failed to make any progress in his development as evidenced by his 39 points in 136 career AHL games spanned over the last three seasons. He does not merit a look in any fantasy league. Eric Daoust
December 2012 – Avtsin has not endeared himself to the Bulldog coaching staff; they have been reluctant to allow him to play regularly. In mid-November he was allowed to play his first game of the season vs. the Marlies, in which he responded with two points, with four shots and was the most dominate player in the game, earning a 'first star' selection. He was given three more games to prove that he could contribute, but they did not go well and he has found himself back in the press box. The offensive skills are obviously available for him to use, he just refuses to work hard and bring them to the forefront. Would not be surprised if he is reassigned to Russia at some point as it is unlikely for him to become a player the Canadiens want to keep around. Jason Banks
May, 2011 – Avtsin has had limited offensive success thus far during his North American transition. Avtsin has good NHL size and reported high-end skills, but Montreal will need to see more proof of this at the AHL level, as well as improved play away from the puck, before trusting him in a scoring role in the NHL. Luckily for Avtsin, he does possess what Montreal needs – size and skill.
Avtsin has upside but also has a long way to go before seeing regular NHL minutes.
Footage:
Sneaky goal during Habs camp:
Fantasy Prospects Report Notes (Any FPR's released in the last 18 months will not be listed here):
Buy the latest Fantasy Prospects Report here.
Write comment
Comments
(0)
Subscribe to this comment's feed