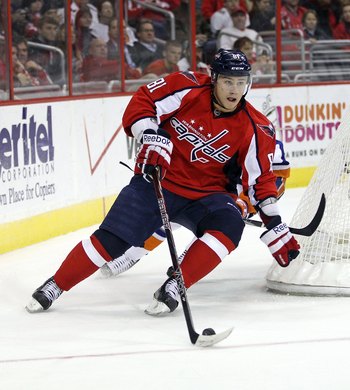 Dmitry Orlov, D

Shoots: L

Height: 6-0

Weight: 210

Born: 1993-04-11

Hometown:  Novokuznetsk, Russia

Drafted:  2009, #55 overall, Washington Capitals
Observations:
November 2013 - Orlov tallied eight points in his first five AHL games, which led to a call-up to the Caps in late October. However Orlov didn't dress for an NHL game and has been swapped back and forth a few times in early November. He is on the cusp of dressing for his first NHL game since last March. He could very well be in next game against Pittsburgh on November 20th. Nathan Kanter
October 2013 - Orlov has done exactly what he needed to do since being demoted; have a quick start. Though he has only played two games, he leads the Bears in scoring with four points and is a plus-2. His only shot on goal in two games found the back of the net. Hopefully he can continue to turn things around. Washington's 'D' situation continues to be interesting as they claimed Alexander Urbom off waivers from New Jersey in early October and have elected to go with him instead of 19 year-old Connor Carrick who was assigned to Hershey. October 11th. Orlov will have to continue to impress and hope for a few injuries before he gets another chance. Nathan Kanter
October 2013 - Orlov failed to make the Capitals opening day roster and was one of the final cuts. This is not good news. Most concerning is that Kundratek, who took away an opportunity last year from Orlov, didn't make the team either, and instead Orlov also lost out to 19 year-old Connor Carrick. Orlov will need a great start for the Bears this AHL season to get the re-call where he must make an impression. He is in the last year of his entry level deal. Nathan Kanter
June 2013 - Orlov took a big step forward in 2011-12 for the Capitals and looked ready to solidify a spot on the blueline, but unfortunately wasn't able to keep his forward progression going this past season. His play is not really to blame. as a shoulder injury caused him to miss significant time, but it surely is a slight step backward to have him only play five NHL regular season games. Still, he managed good AHL numbers, at 17 points in 31 games, and has a very good shot at making the Capitals roster in the fall. Guys like Oleksy and Hillen may have gotten more time this year, but if Orlov can stay healthy, he's surely the better long term option. Jeff Schultz requesting a trade out of D.C. only helps him heading into training camp. Nathan Kanter
April 2012- Dmitry Orlov appears to be cementing his role with the Capitals. With the inconsistent play of both Mike Green and John Carlson, it appears that Orlov will likely find himself with a permanent spot sooner rather than later.  He loves to attack on the rush and this will lead to him earning points on a team like the Capitals (though they have become more defense-minded). He has a quick shot and good foot speed, but needs to work more on his play in his own zone. He scored 19 points in 60 games this season and with more minutes, he will be able to take that to another level.
Modest upside but time is running out. This year he must stick or hope he gets a chance somewhere else.
Footage:
First NHL goal. It really shows his style of play:
Fantasy Prospects Report Notes (Any FPR's released in the last 18 months will not be listed here):
Buy the latest Fantasy Prospects Report here.
Dmitri Orlov stats courtesy of Elite Prospects
Write comment
Comments
(0)
Subscribe to this comment's feed