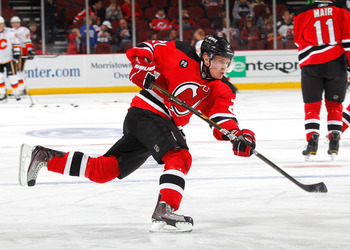 Mattias Tedenby. LW/RW

Shoots: L

Height: 5-10

Weight: 175

Born: 1990-02-21

Hometown:  Vetlanda, Sweden

Drafted: 2008 by New Jersey, 24th overall
Observations:
July 2013- Tedenby has made a full recovery from the rather gruesome cut he received from a skate blade to the kisser and has re-signed with the Devils on a new one-year contract. He finished the 2012-13 season with 19 points in 37 games with Albany and one point in four games with the big club. The troubling sign here is he is coming off his entry level contract and New Jersey only rewarded him with a one-year contract. It appears to be a shot across the bow by Devils management in an effort to get Tedenby to take the next step in his career. Rex Doty
February 2013 – In a surprising recall, Tedenby has seen four games and has produced an assist before being sent back to Albany. He has only produced 17 points in 30 AHL games, a rate that is not as strong as a few other Devils' prospects. New Jersey will try anything to get Tedenby going, as a former first round pick who went from 22 points in 58 games in 2010-11 to barely deserving a scoring roll in the AHL.  Jason Banks
April 2012 – It's been a tough start to Tedenby's NHL career as he's been unable to produce offensively with any type of consistency. Tedenby possesses high-end skill and blazing speed but it's apparent it may be a longer road to NHL success than first expected. Tedenby has been an elite scorer almost everywhere he's played and he has a willingess to go to the dirty areas not seen from other players with similar stature. Tedenby has incredible acceleration and his vision and ability to stick-handle in a crowd are second-to-none. Ryan Goddard
While his arrival may be pushed back don't give up on this top-end prospect - he's far too skilled to simply disappear.
Footage:
Here is a jaw dropping highlight of Tedenby.
Fantasy Prospects Report Notes (Any FPR's released in the last 18 months will not be listed here):
Buy the latest Fantasy Prospects Report here.
Mattias Tedenby's statistics courtesy of Elite Prospects.
Write comment
Comments
(0)
Subscribe to this comment's feed