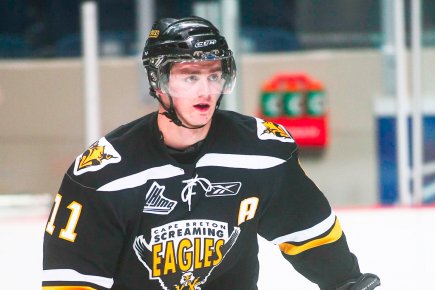 Logan Shaw, RW

Shoots: R

Height: 6-3

Weight: 198

Born: 1992-10-05

Hometown:  Glace Bay, NS

Drafted: 2011 by Florida Panthers, 76th Overall
Observations:
February 2014 - After finishing last season with 68 points in 67 games for the Remparts (QMJHL) as an over-ager, Shaw finally got a crack at the pro leagues. First it was with the Rampage, but going scoreless in his first seven AHL games resulted in a demotion to the Cyclones (ECHL) where he then produced 18 points in 20 games. Since returning to San Antonio in January he has just six points in 19 games (one goal). Nathan Kanter
November 2012 - Logan Shaw is showing signs of life offensively with eight goals and 20 points in 17 games, which ranks third on the Quebec Remparts. Eric Daoust
October 2012 – At the start of May, Shaw signed a three year Entry Level contract and was poised to get a long look in camp. Florida currently is slated to fill gaps with journeymen like George Parros, Andre Deveaux and Casey Wellmen, until a prospect or full time option on the bottom line emerges. After a couple years in the AHL, Shaw could be that option with a little upside. A strong final junior season with the Ramparts could impress Panther brass into rushing his development. Jason Banks
October 2012 - Logan Shaw is producing at a much better clip thus far in the 2012-13 season with 12 points in nine games to start the year. Eric Daoust
April 2012 - Shaw has always performed pretty well on a weak team, but his year the big power forward was traded from Cape Breton to Quebec. He had less of an offensive role on his new team, but still chipped in 15 points in 26 games after the trade. He has great size and reach, which he uses to his advantage. He has a quick release and uses his shot often. Eric Daoust
Don't expect high offensive numbers. His potential is likely a bottom six checking forward.
Footage:
Shaw fight:
Buy the latest Fantasy Prospects Report here.
Write comment
Comments
(0)
Subscribe to this comment's feed