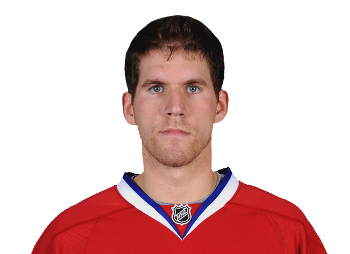 Mathieu Carle, D

Shoots: R

Height: 6-0

Weight: 206

Born: 1987-9-30

Hometown: Gatineau, Que.

Drafted: 2006 2nd round 53rd overall – Montreal Canadians
Observations:
March, 2013 - Carle went unsigned in the offseason by an NHL team and chose to continue his career in the KHL...Unhappy in the KHL, he moved onto to the Swiss League where he is playing with former NHLer's Toni Salmelainen, Dan Fritsche, Cody Almond, Brian Pothier and Alexandre Picard.
February 2012 – Carle is a skilled offensive defenseman who is equipped with the many talents to become a regular D-man in the NHL. He is a strong skater and stick handler who has no problem in the offensive zone, though needs to be more consistent in his own zone. Also has good size, but needs to play with more grit in order to stick in NHL as is already in his fifth AHL season. - Russ Bitely
Carle has good playmaking abilities, yet tends to lose sight of his defensive chores.
Footage:
Mathieu Carle takes a tough open-ice hit during his stint with Canadians in 2009:
Fantasy Prospects Report Notes (Any FPR's released in the last 18 months will not be listed here):
Buy the latest Fantasy Prospects Report here.
Mathieu Carle statistics courtesy of Elite Prospects
Write comment
Comments
(0)
Subscribe to this comment's feed