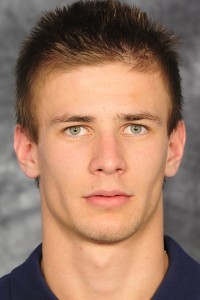 Marek Langhamer, G
Shoots: L
Height: 6-1
Weight: 181
Born: 1994-7-22
Birthplace: Moravska Trebova, Czech Republic
Drafted: 2012 by Phoenix Coyotes, 184th Overall
Observations:
January 2014 - Langhamer had a very solid 2014 World Junior Tournament for the Czech Republic, highlighted by a 5-4 shootout win over Canada in group play. In five games he finished with a 2.95 goals against average and a .906 save percentage. While his play during the tournament helped his prospect stock rise, with Mike Smith signed through 2019 and several other goalies in the system, it's still a question where he will fit in the organization and if the Coyotes will even sign him to an entry level deal. Keith Duggan
December 2013 - Marek Langhamer has been selected to play for the Czech Republic during the 2014 Under-20 World Junior Championship in Malmo, Sweden. The Czechs will have three goalies on their roster for the tournament but early indications are that Langhamer has the inside track to be the squad's starting goalie. Langhamer is one of only three NHL drafted players on the young Czech team, which is not really expected to compete for a medal. After being drafted by the Coyotes in 2012, Langhamer came over to North America the following season to play for the Medicine Hat Tigers of the WHL. In his first season in southern Alberta he was the team's backup goalie, and this season he has split duties with Daniel Wapple, but has the best stats of the two after 33 games played. He currently ranks sixth in the WHL with a 2.45 goals against average in 15 games, has save percentage of .916% and won nine games with a shutout. He has all the athletic tools but must find a way to accompany them with the little things in the game like positional play, staying square to the shooter, and offensive reads. Keith Duggan
Fantasy Outlook: D+
With several goalies ahead of him in the organization, and most likely lot of years of apprenticeship, if he does make it to the NHL, it's going to be a while.
Footage:
Interview with Marek Langhamer
Buy the latest Fantasy Prospects Report here.
Write comment
Comments
(0)
Subscribe to this comment's feed