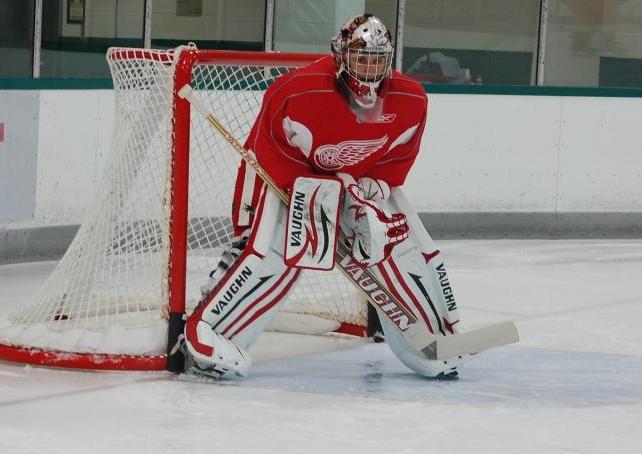 Petr Mrazek, G

Shoots: L

Height: 6-1

Weight: 184

Born: 1992-02-14

Hometown: Vitkovice, Czech Republic

Drafted: 2010 by Detroit , 141st Overall
Observations:
April 2014- Petr Mrazek has pieced together a fantastic season split between Grand Rapids and Detroit and for his efforts he was named to the AHL Second All-Star team after posting the best goals against average (2.07) and second best save percentage (0.926) of all goaltenders. Coach Mike Babcock rewarded the young netminder with a start for Detroit's season finale against the Blues and Mrazek pulled out all the stops making a couple stunning acrobatic plays enroute to a 3-0 shutout victory. If his stats weren't impressive enough in the AHL for you then you should check out his numbers in Detroit as he actually finished with a better goals against average (1.74) and save percentage (0.927) despite only compiling a 2-4-0 record in nine games. It has only been limited action for the Czech Republic native but he seems to rise to the occaison again and again when called upon and definitely looks ready to take over the back-up job in Detroit next season and even push Jimmy Howard for starts. With the Monster, Jonas Gustavsson a free agent it looks like he will get that opportunity and maybe 2015 will be the year we finally see some youthful exuberance with this Red Wings club and not because of injuries. Travis Watson
November 2013- Mrazek picked up his first career NHL shutout in just his 3rd game of his career when he helped the veteran-laden Wings take down the youthful Oilers 5-0. It was relatively light work for Mrazek in this one as the Oilers were only able to muster up 12 shots on goal but even so Mrazek is clearly a prospect to know especially for dynasty leagues and as insurance for when the next inevitable injury strikes the Red Wings crease. Travis Watson



June 2013- Seems as though the Grand Rapid Griffins believe in the old adage that the third time is a charm. After failing to close out Syracuse with two chances at home after racing out to a three games to none lead, the Griffins were finally able to finish the Crunch off with a 5-2 victory in game 6. The Griffins were backstopped by their rookie sensation, Petr Mrazek, who finished the post season with a record of 15-9 with a 2.31 GAA- 0.916 SV%- and four shutouts en route to Calder Cup glory. Mrazek was absolutely fantastic for the Griffins all playoffs long and will even find himself in the AHL Record book for his efforts tying Ondrej Pavelec (Chicago,2008) and Matt Hackett (Houston,2011) with 24 games played by a goaltender in one playoff run. Travis Watson
March 2013- Mrazek got to enjoy his first cup of coffee in February winning in his debut 5-1 over Detroits' divisional foes St. Louis. He was also able to get another start under his belt losing that bout and came out with a 2.02 GAA and .920 save percentage. Mrazek was sent back down due to the numbers game and to help hone his trade as the starter for the AHL affiliate Grand Rapid Griffins. Looking more and more like the Wings goaltender of the future. Keep a close watch. Travis Watson


December 2012 – Mrazek has been extremely strong for the Griffins currently posting a 10-3 record with a GAA of 2.21 and .919 SV%. His strong goaltending has catapulted the Griffins within reach of the top teams of the conference while jumping Thomas McCollum on the depth chart. He started in the ECHL this season and received a recall in November, after which he won six straight. Mrazek is rather unflappable and has no problem showing his emotions and excitement within a game. (Many will remember his jumping around as a member of the Czech Republic WJC team) He has a very bright outlook in the organization and has more talent than many of the goalies Detroit has owned in a long time. The Wings could chose to give him their regular four year development plan or allow him to ascend to challenge Jimmy Howard as early as next season. He is not a goalie in need of refinement, mostly just continued experience with strong shooters and systems. Currently can be viewed as a bit of a 'hidden gem' his name is not yet mentioned in many fantasy hockey circles and is forgotten behind the likes of Subban, Vasilevski, Lehner, Holtby and others, yet he may be growing to backstop the best organization in hockey. Jason Banks
October, 2012 – The strong goaltender out of the 67's system starred at the World Juniors for the Czech Republic. He makes up for his lack of size with his quickness, good positioning. He is very determined and is expected to play for Grand Rapids of the AHL this season.  I expect Mrazek to have a smooth transition to pro hockey due to his hockey sense, puck handling as well as his aforementioned skills.
Fantasy Outlook: B+
Big upside although he could use a few seasons in the minors.
Footage:
Compilation of Mrazek's highlight saves from the 2012 WJC:
Fantasy Prospects Report Notes (Any FPR's released in the last 18 months will not be listed here):
Buy the latest Fantasy Prospects Report here.
Petr Mrazek's statistics provided by Elite Prospects
Write comment
Comments
(0)
Subscribe to this comment's feed