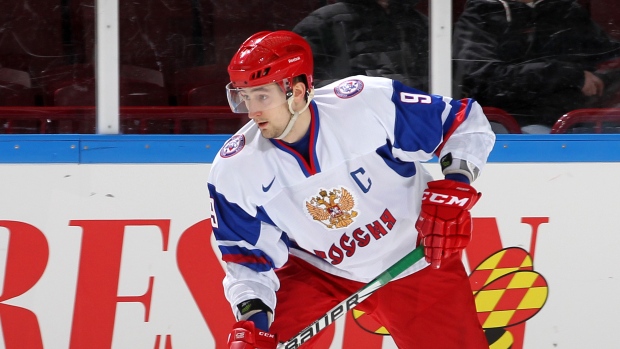 Anton Slepyshev, LW

Shoots: R

Height: 6-2

Weight: 194

Born: 1994-05-13

Hometown: Penza, Russia

Drafted: 2013 by Edmonton Oilers, 88th Overall
Observations:
May 2015 - The Oilers have signed Slepyshev to a three-year, two-way entry level contract. This is very exciting news for all who follow the Oilers as Slepyshev has high end skill and a strong desire to score goals. He had a breakout season this year in the KHL and is expected to come to North America this summer. Ufa's general manager stated that Slepyshev wanted to play in the NHL and it wouldn't be a surprise to see him on Bakersfield's starting roster this upcoming season. Tyler Thomson
March 2015 - Slepyshev experienced an increase in ice time as his season wound down with Salavat Yulaev Ufa of the KHL. The expanded role with Ufa is a welcome sign for the 20-year-old who had a very slow start to his fourth KHL campaign. Slepyshev finished off the year with 15 goals and 25 points in 58 regular season games. Despite his team being bounced in the first round of the playoffs, four games to one, Slepyshev displayed the high end stick handling and vision that made him a coveted NHL draft pick. This was even more evident earlier in the year when his team participated in the Spengler Cup, where he lead Ufa in goals (3) and points (5) in five tournament games. The challenge still lies in getting him to come to North America and compete for a spot on the Oilers. As of now, there is no sign of him leaving the KHL. Tyler Thomson
May 2014 - Slepyshev finished second on Team Russia in scoring at the WJC, serving notice that he's definitely an NHL prospect. The trick is to get him across the pond, and that's where his fantasy value takes a hit. He's 50-50 at best in terms of coming over here within the next three years. In the meantime, he's playing against men who outweight him by 25 pounds or more in the KHL. - Dobber
June 2013 –To the surprise of many, Anton Slepyshev was passed over in the 2012 NHL Entry Draft after being ranked as a second round prospect by most services. The fact that 30 teams passed over him makes one wonder what the issue was because he was certainly worthy of a late round flyer. Slepyshev is a big powerful forward with a sniper's mentality who gets around the ice with ease. He is prone to falling into scoring slumps and periods of inactiveness but when he is on his game, he is a scoring threat. He packs a good shot with a quick release and can operate as an average passer as well. Playing for Novokuznetsk and Ufa in the KHL, Slepyshev compiled seven goals and nine points in 26 games. Brendan Ross
Fantasy Outlook: C+
His outlook takes a big step forward now that he is officially committed to the Oilers. While he is most likely a season away from the NHL, Slepyshev owns top six skills.
Footage:
Anton Slepyshev 2011-12:
Buy the latest Fantasy Prospects Report here.