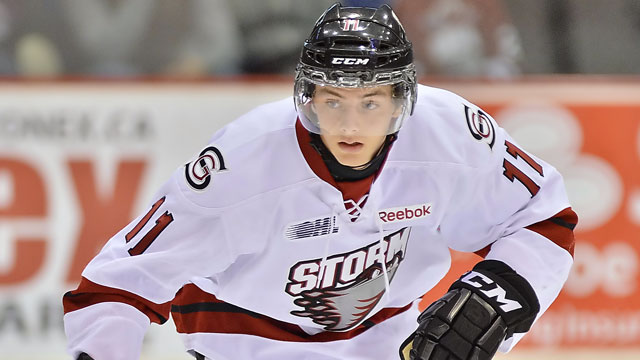 Jason Dickinson, C

Shoots: L

Height: 6-1

Weight: 170

Born: 1995-07-04

Hometown: Halton, ON

Drafted: 2013 by Dallas Stars, 29th Overall
Observations:
July 2015 - Dickinson was one of the top players at the Dallas Stars development camp earlier this month. He had another strong OHL season by racking up 27 goals and 44 assists in 56 regular season games and added four goals and four assists in nine playoff games to tie for the team scoring lead. When Guelph's season came to an end at the hands of Sault Ste. Marie, Dickinson was assigned to Texas to in time to play the final two games of the regular season, notching three assists. He also saw action in three playoff games but was held pointless. A year in the AHL playing top six minutes would be the best thing for Dickinson's development at this stage. With some strong play he could parlay that into spot duty on the third or fourth line with the big club. Brad Phillips
December 2014 - Jason Dickinson was invited to Canada's 2014 World Juniors Selection Camp. Thus far in the 2014-15 the Storm Captain has 19 points in 20 games, good for fifth on the team in scoring. Rex Doty
October 2014 – Guelph forward Jason Dickinson has been named to the OHL's roster for the upcoming Subway® Super Series and will compete in the November 13th game in Peterborough. Brendan Ross
October 2014 - Fresh off his time in camp with the Stars, Dickinson has hit the ground running with Guelph. In the two games since being sent down he has four points (2 goals, 2 assists) and has been named the Storm's captain. Rex Doty
September 2014 - Jason Dickinson has been assigned to the OHL's Guelph Storm for the upcoming 2014-15 season. Dickinson had a good camp and survived until the second round of cuts. The move will be a good one for him as he will get big minutes at the junior level to keep building his game. Rex Doty
January 2014 - Dickinson recorded points in six of his last seven games to end the month of December with Guelph. He continued his success into the New Year by tallying two points (one goal, one assist) in the Storm's 5-3 victory over the Greyhounds. The 18-year old ranks second on the team in plus/minus rating (+19), tallying 42 points (17 goals, 25 assists) through 40 games this season. Clayton Bailey
December 2013 - Dickinson recorded three points (one goal, two assists) in his last four games for Guelph (OHL) to begin the month of December. The 29th overall selection in the 2013 NHL Entry Draft ranks fifth on the Storm with 37 points (13 goals, 24 assists) in 33 games. Clayton Bailey
November 2013 - Dickinson lead Guelph Storm (OHL) to a 3-0 start by tallying three straight multiple point games to begin the 2013-2014 season. He's recorded 23 points (8 goals, 15 assists) through 22 games played, including four total points (two goals, two assists) in the last four contests. Clayton Bailey
February 2013 – Dickinson could be that one player that the hockey world looks back on with a "why wasn't he drafted higher?" attitude if he realizes his vast potential. Good size and great offensive instincts are Dickinson's greatest attributes and he is only beginning to tap his skillset. Offensively, Dickinson has a good arsenal to beat the opposition with slick puck handling skills, quick feet and an eye for offensive opportunities. Dickinson continues to battle consistency issues as he occasionally takes shifts off but there is little question that he is a player with first round size and skills. Brendan Ross
Fantasy Outlook: B+
Dickinson is a skilled player with a good hockey mind and his fantasy value depends largely on how much he of his potential he can achieve. In the best case scenario, Dickinson plays as a first line forward but if not, he will become serviceable on the second or third lines.
Footage:
Jason Dickinson Interview:
Buy the latest Fantasy Prospects Report here.