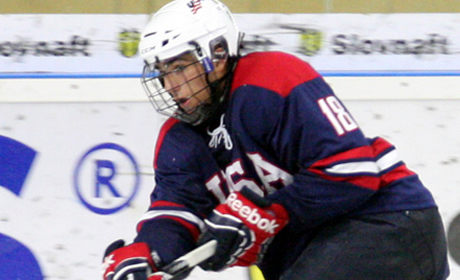 Nick Schmaltz, C

Shoots: R

Height: 6-0

Weight: 172

Born: 1996-02-23

Hometown: Verona, WI, USA

Drafted: 2014 by Chicago Blackhawks, 20th overall
Observations:
January 2015 – Through 21 games of his freshman season at the University of North Dakota, Schmaltz has three goals to go along with 15 assists to lead the team in rookie scoring. He was rewarded with a spot on the U.S roster at this past December's WJHC where he tallied one assist in five games. He will no doubt be asked to shoulder more of the offensive load in 2016, should he return as a 19 year-old next year. A playmaker at heart, it would be nice for us poolies if he put more pucks on net, as he has just 24 shots in 21 games. This should come as he gains confidence and comfort with the NCAA game, but the 2014 first rounder's career is off to a good start. Matt Donohue
July 2014 - The Blackhawks first rounder will be attending the University of North Dakota in the fall where he will play with older brother and St. Louis Blues prospect, Jordan. He impressed at the prospects camp earlier this month and was unfazed by the faster pace of the NHL level. His freshman year will likely be more of a development type year, where he will not be expected to provide much offensively. We are likely waiting until at least 2016 before we see Schmaltz in a Blackhawks uniform. Matt Donohue
June 2014 – The Chicago Blackhawks selected Nick Schmaltz 20th overall in the 2014 NHL Entry Draft. Brendan Ross
February 2014 – A product of the Chicago Mission program, Nick Schmaltz has been on scouting radars for several years now. It's been Schmaltz's puck wizardry and offensive creativity that's been drawing hockey minds to rinks regularly. His offensive reads and elusive agile skating makes him a dynamic player who is equally adept as a playmaker or a shooter. Schmaltz's high-end hockey intelligence allows for him to survive as an undersized forward but adding strength will be important for his success at the next level. Brendan Ross
Fantasy Outlook: A-
Dynamic offensive pivot with game changing abilities. Projects as a top line centerman.
Footage:
Post 2014 WJC Video of Nick Schmaltz:
Buy the latest Fantasy Prospects Report here.