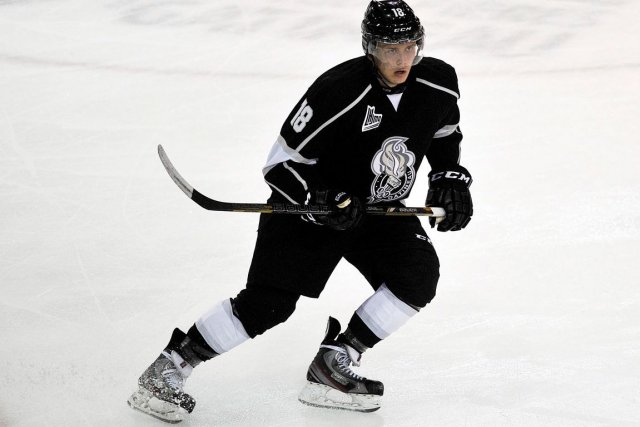 Vaclav Karabacek, RW

Shoots: R

Height: 6-0

Weight: 195

Born: 1996-05-02

Hometown: Czech Republic

Drafted: 2014 by Buffalo Sabres, 49th overall
Observations:
May 2015 – Karabacek was traded midway through his QMJHL year, starting the year with Gatineau Olympiques and finishing with Baie-Comeau Drakkar. He ended up with 40 points (17 goals, 23 assists), 62 penalty minutes and a minus-6. He showed he could score in big games in the first two rounds of the QMJHL playoffs, scoring 11 points in 12 games played. He has produced over a point per game in the QMJHL playoffs (1.10 pts/game) over his two-year junior career. Vaclav played a more complete game this past season, showing he is capable on both sides of the puck and being a great support player. He is still in the developing stages and should be an effective scorer when he makes it to the NHL. – Paul Zwambag
June 2014 - The Buffalo Sabres selected Vaclav Karabacek 49th overall at the 2014 NHL Entry Draft. Brendan Ross
June 2014 – Czech winger Vaclav Karabacek debuted with the Gatineau Olympiques and had an impressive rookie season notching 21 goals and 47 points in contests. Karabacek helped propel the Czech Republic to a silver medal at the 2014 Under-18 World Championship adding a trio of goals and six points in seven games. He is a sturdy forward who works the dirty areas well and while he doesn't possess top end speed, he is elusive and agile in movement. Look for Karabacek to develop his skating and acclimate himself more to the North American game as he takes the next step in his development. Projects as a mid-round pick and could be selected as high as the second round at the 2014 NHL Entry Draft. Brendan Ross
Karabacek has developed his two-way game to go along with his great skills and high hockey sense, should be a good third-line winger who can chip in points. Could develop into a second-line winger.
Footage:
Karabacek scores:
Buy the latest Fantasy Prospects Report here.