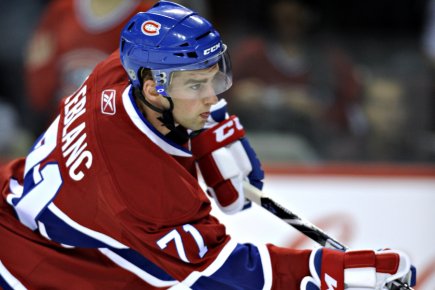 Louis LeBlanc, C

Shoots: R

Height: 6-0

Weight: 181

Born: 1991-01-26

Hometown: Pointe-Claire, QC

Drafted: 2009 by Montreal Canadiens, 18th Overall
Observations:
June 2014 - Leblanc was traded to the Anaheim Ducks for a conditional fifth-round pick. Not seeing any added opportunity for Leblanc on a deep Anaheim roster, other than perhaps a clean start. Dobber
February 2014 - Leblanc currently sits second among Hamilton Bulldogs' scorers with 20 points in 38 games. He also recently had a five-game call-up to Montreal where he failed to register any points. Despite minimal ice time he had to bring more than just a bit of energy. With other forwards like Sven Andrighetto and Christian Thomas making progress this year it is not clear if Leblanc has a future with the Canadiens. Eric Daoust
October 2013 - Leblanc bounced back from a slow start and with additional injuries in Montreal he has earned a call-up to the main roster. Eric Daoust
October 2013 - Leblanc failed to make the Canadiens' roster out of training camp while fellow prospect Michael Bournival has cemented a spot with the main club. Leblanc has had a poor start in the AHL with no points in four contests for Hamilton. This paved the way for Patrick Holland to be called up to Montreal as an injury replacement. Leblanc has fallen down a few spots on the organizational depth chart and may not see NHL action for a while. Eric Daoust
July 2013 - Leblanc made some changes to his offseason training and put in a good performance at the team's prospect development camp. Eric Daoust
May 2013 - Leblanc finished a tough year with just 16 points in 62 games for the Hamilton Bulldogs in the AHL. For those who are looking for positives, he did lead his club with 161 shots on goal and was one of three recipients of a team award for hardest working player. The upside is still there but at the age of 22 he must get back on track quickly to get back into the team's plans in Montreal. Eric Daoust
March 2013 - Leblanc's development has taken a step backwards with just 13 points in 46 games in the AHL. Gabriel Dumont and Mike Blunden have recently been called up to Montreal while Michael Bournival and Patrick Holland have also outplayed Leblanc this season so it is possible that we do not see him back in the NHL for a while. Eric Daoust
December 2012 – Injuries have limited Leblanc to only six games this season. He currently has produced three goals in those games, and his offence will be much needed as will his health. Leblanc will lineup as the team's top center the rest of the season, and he will be depended upon to make up for the loss of Blake Geoffrion. Jason Banks
April 2012 - Leblanc has been one of the few bright spots for Montreal this year. Injuries pushed the two-way center into the lineup and he has taken advantage of the opportunity. He spent most of the season on the third line as a checking forward and chipped in five goals and ten points. He is a reliable player with and without the puck and hasn't looked out of place in his rookie season. He's a lock to start the year in Montreal next year and his offensive numbers will improve as he gets more comfortable. Derek Leblanc
Fantasy Outlook: C-
Lack of production at the AHL level while other Ducks prospects score in bundles makes Leblanc a long-shot fantasy option.
Footage:
LeBlanc's first career NHL goal.
Buy the latest Fantasy Prospects Report here.